Tags:

apiedit

,

Visual edit

m

 

Line 3:
Line 3:
 

|description = Gloves for heroic Hunters. Provide perfect grip for any type of bow.

 

|description = Gloves for heroic Hunters. Provide perfect grip for any type of bow.

 

|rarity = 5

 

|rarity = 5

 
+

|hunter = 1

 

|skillLvl = 30

 

|skillLvl = 30

 

|stat1 = Defence

 

|stat1 = Defence

 

|stat1value = 24

 

|stat1value = 24

⚫
 
 

|stat2 = Magic Defence

 

|stat2 = Magic Defence

 
+

|stat2value = 12

−

|stat2value = 12|hunter = 1|craftClass = [[Tailor]]|craftRank = God|ingredient2 = [[Beast Hide]]|ingredient1 = [[Divine Cashmere]]|amount1 = 1|ingredient3 = [[Wonderful String]]|amount2 = 1|amount3 = 1|sold = N/A|type = [[Armour]]}}

 
 
⚫
 
+

|craftClass = [[Tailor]]

 
+

|craftRank = God

 
+

|ingredient2 = [[Beast Hide]]

 
+

|ingredient1 = [[Divine Cashmere]]

 
+

|amount1 = 1

 
+

|ingredient3 = [[Wonderful String]]

 
+

|amount2 = 1

 
+

|amount3 = 1

 
+

|sold = N/A

 
+

|sell = ? [[Dosh]]

 
+

|sellgood = ? [[Dosh]]

 
+

|sellgreat = ? [[Dosh]]

 
+

|selltop = ? [[Dosh]]

 
+

|selldivine = ? [[Dosh]]

 
+

|type = Armour ([[Armour|Hands]])

 
+

}}

 

== Obtaining ==

 

== Obtaining ==

 

* Speak to [[Erik Stone|King Erik]] in the daytime once reaching the rank of Hero in the [[Hunter]] life

 

* Speak to [[Erik Stone|King Erik]] in the daytime once reaching the rank of Hero in the [[Hunter]] life

Line 23:
Line 40:
 

* [[Sniper's Gloves]]

 

* [[Sniper's Gloves]]

 

* [[Sniper's Boots]]

 

* [[Sniper's Boots]]

 
⚫
 
⚫
 

[[Category:Armour]]

 

[[Category:Armour]]

 

[[Category:Gloves]]

 

[[Category:Gloves]]

 

[[Category:Tailor Recipes]]

 

[[Category:Tailor Recipes]]

−

[[Category:Items]]

 
⚫
 
⚫
 
---
Latest revision as of 20:08, 21 May 2019
Sniper's Gloves

Gloves for heroic Hunters. Provide perfect grip for any type of bow.
Rarity
Stats
Defence
Normal
24
Good
?
Great
?
Top
?
Divine
?
Magic Defence
12
Special Effects
Critical rate +
------
Obtaining
Obtaining the Recipe
Reach the rank of God in the Tailor life
Check the mail to see a letter from Divinus
Read that letter to unlock the recipe
Also see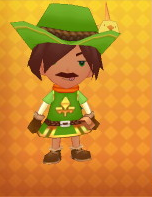 Community content is available under
CC-BY-SA
unless otherwise noted.