Serpent Staff

The most sought-after of legendary staffs. Grants the user unparalleled magical power.
Rarity
Stats
Magic Attack
Normal
60
Good
67
Great
74
Top
?
Divine
?
Attack
0
Special Effects
S. Skill charge rate x1.5
------

Serpent Staff is a staff which was introduced in Fantasy Life. The crafted version is the best staff in the original game.
Obtaining
Refer to Master Chests
Complete the storyline of the game
Reach the rank of Master in the following lives:
Obtain the the treasure from the Garden of Shadows where the Prior Dark Sultan is found
Obtaining the Recipe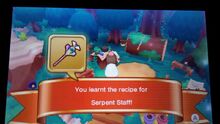 See also