Rupert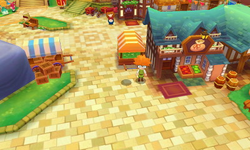 "A young boy with such terrible luck, it's a miracle he is still alive. Currently he has a crush on a girl."
Rupert is an alchemist in Castele.
Location
Day: Castele Square - near the General Goods Store
Night: Castele Square - near the pier
General Information
Gives one Iron Ingot upon reaching Adept rank
Unlocks the Diving Mask recipe

Also known as Diving Goggles

Unlocks the "Flamel's Fixation" quest at Master rank

Also known as "Labor of Love"