m

 

Line 1:
Line 1:
−

{{Gear|name = Rune Armour|description = Strange powers are sealed within. No matter how heavy the attack, it won't leave a dent.|rarity = 5|paladin = 1|mercenary = 1|miner = 1|woodcutter = 1|blacksmith = 1|carpenter = 1|skillLvl = 45|stat1 = Defence|stat1value = 68|stat1good = 75|stat1great = ?|stat1top = 91|stat1divine = ?|stat2 = Magic Defence|stat2value = 29|special = Fire element ++|craftClass = [[Blacksmith]]|craftRank = God-in-Training|ingredient2 = [[Rainbow Mana +]]|ingredient1 = [[Ancient Ingot]]|amount1 = 2|ingredient3 = [[Ancient Stone]]|amount2 = 1|amount3 = 1|sold = 40,000 [[Dosh]]|sell = 14,000 [[Dosh]]|sellgood = 16,800 [[Dosh]]|sellgreat = ? [[Dosh]]|selltop = 22,400 [[Dosh]]|selldivine = ? [[Dosh]]|type = Armour ([[Armour|Body]])|stat1devine = ?}}Known as "Rune Cuirass" in the North American version.

+

{{Gear|name = Rune Armour|description = Strange powers are sealed within. No matter how heavy the attack, it won't leave a dent.|rarity = 5|paladin = 1|mercenary = 1|miner = 1|woodcutter = 1|blacksmith = 1|carpenter = 1|skillLvl = 45|stat1 = Defence|stat1value = 68|stat1good = 75|stat1top = 91|stat2 = Magic Defence|stat2value = 29|special = Fire element ++|craftClass = [[Blacksmith]]|craftRank = God-in-Training|ingredient2 = [[Rainbow Mana +]]|ingredient1 = [[Ancient Ingot]]|amount1 = 2|ingredient3 = [[Ancient Stone]]|amount2 = 1|amount3 = 1|sold = [[Dosh]]|sell = [[Dosh]]|sellgood = [[Dosh]]|sellgreat = ? [[Dosh]]|selltop = [[Dosh]]|selldivine = ? [[Dosh]]|type = Armour ([[Armour|Body]])|stat1devine = ?}}Known as "Rune Cuirass" in the North American version.

 

== Obtaining ==

 

== Obtaining ==

 

'''Treasure Chests:'''

 

'''Treasure Chests:'''

Line 16:
Line 16:
 

__NOTOC__

 

__NOTOC__

 

__NOEDITSECTION__

 

__NOEDITSECTION__

−

[[Category:Blacksmith Recipes]]

+

[[Category:]]

 
+

[[Category:Armour]]

 

[[Category:Armour Top]]

 

[[Category:Armour Top]]

 
+

[[Category:Blacksmith Recipes]]
---
Latest revision as of 00:40, 24 July 2019
Rune Armour

Strange powers are sealed within. No matter how heavy the attack, it won't leave a dent.
Rarity
Stats
Defence
Normal
68
Good
75
Great
?
Top
91
Divine
?
Magic Defence
29
Special Effects
Fire element ++
------
Known as "Rune Cuirass" in the North American version.
Obtaining
Treasure Chests:
Shops:
Also see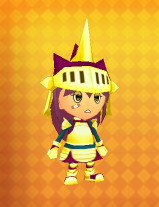 Community content is available under
CC-BY-SA
unless otherwise noted.