Ophelia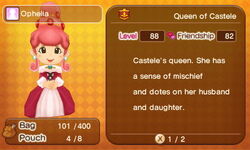 "Castele's Queen. She has a sense of mischief, and dotes on her husband and daughter."
Queen Ophelia is King Erik's wife, and Princess Laura's mother. She is well known for her radiant beauty. It is also rumored that she is one of the strongest Paladins, as well as being extremely powerful and skilled in battle.
As the description in her profile says, she has a sense of mischief and enjoys doting on her husband and daughter. She is polite and well-mannered, as well as very strong.
Ophelia's hair is a pinkish color, tied up in two buns with one small one on top the bigger one. It is surrounded by some sort of hairpieces, red circular gems connected with golden beads wrapped around each bun. She wears two lightly colored teal earrings, and her eyes appears to be brown. She wears a long, reddish like dress with white cloth underneath that goes slightly behind her feet.
When your character is at Level 95
| | |
| --- | --- |
| Level | 100 |
| HP | 845 |
| Attack | 600 |
| Defense | 500 |
| Magic Attack | 215 |
| Magic Defense | 255 |
Mustang reveals to the character after reaching Creator that the strongest Paladin lives within the castle. It is possible he could be referring to Ophelia.
Mr. Apfel tells the character at Adept Rank that Captain Mustang is the 2nd best Paladin in Castele, referring to a female character as best. Queen Ophelia is probably the referred NPC.
Queen Ophelia called the Dragonslayer a weakling, probably meaning she is a way better paladin. Queen Ophelia's past was referred to as an "Elderwood Village Paladin"
Her name, Ophelia, may be a reference to the character Ophelia in the Shakespeare play Hamlet, wherein Hamlet is the rightful king, and his lover is Ophelia.
Community content is available under
CC-BY-SA
unless otherwise noted.