Miguel
ミゲル, Migeru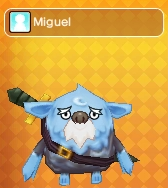 "A legendary Mercenary who is famed for his bravery. He once fought side-by-side with Cervantes."
Character information
Gender
Male
Nickname(s)
No known nicknames
Hometown
Al Maajik
Relatives
Melusine (grand-daughter)
Rank
Mercenary
First appearance
The Mercenary's tutorial
Location
General Information
Battle Stats
Miguel is able to join the player's party once the player has reached the rank of Hero in the Mercenary life.
Name
LVL
HP
ATK
DEF
MAG
ATK
MAG
DEF
Miguel
100
970
480
450
210
240