Magmia
カレン, Karen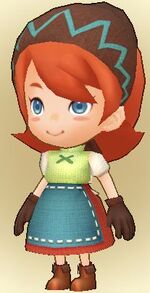 Fantasy Life Online
"A girl building a reputation as a fine Blacksmith. She worries for her lazy Paladin brother."
Character information
Gender
Female
Nickname(s)
Unknown
Hometown
Castele
Relatives
Steele (Grandfather)

Ignatius (Brother)

Rank
Aspiring Blacksmith
First appearance
Fantasy Life
Magmia is a Blacksmith who works in the Artisan's Workshop. Can be unlocked as an ally through reaching Adept rank in the Blacksmith Life.
Teaches the recipe Paladin's Sword
Can be found outside of Steele's house in the Castele Artisan District during daytime
Will be in the players party during certain parts of The Blacksmith's Tale
Gallery