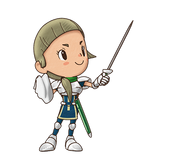 Longswords are the key weapons used by Paladins

. Longswords are used to attack enemies in close combat, because it's a one-handed weapon it's usually used alongside a shield.
There are 23 different types of Longswords in total (excluding refinements). However there is an additional sword called Custom Bronze Sword making the total number 24. But it's only available during The Fledgling Blacksmith mission (tutorial mission). It can't even be used and for that reason isn't listed among the other longswords.