| | |
| --- | --- |
| | This article contains huge spoilers! |
---
Levitania (Terra Nimbus)

Levitania from above

Mysterious Abandoned Shack
Vital statistics
Type
A mysterious island suspended in the sky. The sun-soaked trees and ore found on the island are of exceptionally high quality.
Level
Chapter 6
Location
Reveria's Sky
Inhabitants
Plushlings
Levitania, known as Terra Nimbus in the North American release, is a region in Reveria.
Once a Doom Stone that came from the sky during a time of crises in Reveria, the huge mass threatened to level the realm as it precariously loomed over the land. In order to prevent the stone's eventual collision course, Celestia utilized the Floatstone in her airship, placing it on the stone to keep it afloat. With the threat barely averted, the denizens of Reveria soon united and worked towards an era of peace under Celestia's guidance, which stopped future Doom Stones from falling.
The Doom Stone remained in the sky, a reminder of darker times, which people learned to fear and revile. Centuries passed, and what was once a Doom Stone had become purified by Celestia's Floatstone, turning into the floating island of myth and legend it is today.
To reach Levitania, you need to reach chapter 6 of the story after Crankshaft makes some improvements to the airship. After the main story is complete, you can access Levitania anytime by talking to Larkin to the east of Port Puerto Marina.
Also, after completing Chapter 6, you gain the ability to get dragon and bird pets (requires Origin Island DLC) by talking to the Pet Vendor in Central Levitania.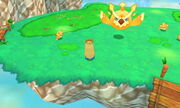 Insects
Flowers, Herbs and Mushrooms
Fruits, Vegetables and Animal Products
Ore, Wood and Fish
Treasure Chests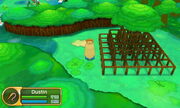 Insects
Flowers, Herbs and Mushrooms
Ore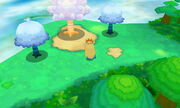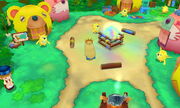 The Plushling Camp is a town in Levitania populated with Plushlings. You can buy various things there, as well as renting a Holiday Home from one of the Plushlings. The Plushling Camp can be accessed from East Levitania.
Points of Interest
[
]
Plushling Shopkeeper
[
]
Talk to this plushling to buy items.