The article Fluffkin Grotto is a stub, which means that this article requires more information.
Please, feel free to add more information to this article.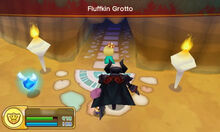 The Fluffkin Grotto (also known as the Furlin Grotto) is home to a lot of yellow Fluffkins and to Peachy, a pink Fluffkin. It is located within the Penguin Beach area of Origin Island.
There is a Fluffkin Clerk in the Fluffkin Grotto that sells a wide range of expensive items and decor. The items that it sells are listed below:
| Item | Price (Dosh) | Requirements |
| --- | --- | --- |
| Gigaga Water | 150 | |
| Gigaga Catfish | 1,000 | |
| Gigaga Truffle | 1,200 | |
| Gigaga String | 1,800 | |
| Gigaga Pickaxe | 45,000 | |
| Gigaga Axe | 47,000 | |
| Giga Fishing Rod | 42,000 | |
| Gigaga Hammer | 50,000 | |
| Vintage Needle | 51,000 | |
| Gigaga Saw | 49,000 | |
| Ancient Frying Pan | 40,000 | |
| Flask of Dawn | 43,000 | |
| Fluffkin Fuzzband | 20,000 | |
| Fluffkin-Shaped Rug | 25,000 | |
| Fluffkin Window | 20,000 | |
| Fluffkin Chair | 12,000 | |
| Fluffkin Wardrobe | 32,000 | |