Flamel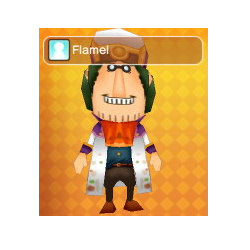 The disaster-prone Alchemist master who often blows himself up with his own experiments.
Character Information
Gender
Male
Nickname(s)
-
Relatives
-
Lives
Castele
Life
Alchemist
Flamel is the Life Master for the Alchemists.
Flamel's name is a reference to the historical figure Nicolas Flamel, a scribe rumored to be an alchemist some centuries after his death.
Location
General Information
Unlocks the "Fabulous Flask" quest at Expert rank but won't give the recipe for it. The player must speak to Petri to obtain it.

Also known as the "Flask Formation" quest
Battle Stats
Flamel is able to join the player's party once the player has reached the rank of God in the Alchemist life and initially accepts the special request. In addition, the player must have completed the Origin Island storyline.
Name
LVL
HP
ATK
DEF
MAG
ATK
MAG
DEF
Flamel
100
950
370
450
260
320