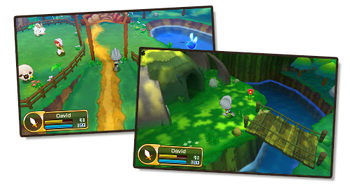 "Green pastures stretching from Castele to Port Puerto. It may seem idyllic, but watch out for Mother Nature's more ferocious beasties."
The East Grassy Plains is the first enemy-infested location that the player will encounter in the game Fantasy Life. Located to the west of the main grassy area is the Haniwa Cave, to the north-west is West Grassy Plains, to the north is Elderwood, to the north-east is Mt Snowpeak and to the south is Castele.
The enemies in the East Grassy Plains are quite easy to kill. Newcomers should beware of the forest to the north of the central grassy area, as tougher enemies such as Coyotes and Red Wolves inhabit it. At night, the Coyotes and Red Wolves roam around the entirety of the East Grassy Plains, including the central grassy area.
Regular
Silver
Gold
Lootable Items
Edit
Insects
Flowers, Herbs and Mushrooms
Fruits, Vegetables and Animal Products
Ore, Wood and Fish
Treasure Chests
Community content is available under
CC-BY-SA
unless otherwise noted.