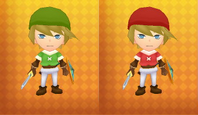 Players may alter the colour of some armour and a select few decor items.
To see a visual list of dyeable items, click here.
Where to dye items
How it works
In order to dye an item, players need a minimum of 3 flowers of the same kind. These flowers must be with the player and not in storage at their home. The flowers that are used to dye are as followed: Blackbell, Bluebell, Greenbell, Redbell, Whitebell, and Yellowbell.
The tulip will show which items on hand that the player may dye.
Should a player want to return to the default colour, they may use 3 containers of water. Examples: Spring Water, Mountain Spring Water, Saltless Seawater, Gigaga Water, and Hot Spring Water.
Dyeing exception
Items that have been given to another player may NOT be dyed. Should a player want to receive a certain item in a specific colour, the original owner would need to dye the item and then gift it.
For more information on gifting and trading items, click here.