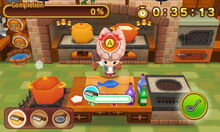 Cooking is the crafting ability of the Cook life. By cooking, the player may create a number of dishes which can be sold for Dosh, (the amount dependent on the quality of each crafted item) or carried in the field to use as support items.
Dishes created through Cooking typically provide recovery of HP and/or SP as well as temporary boosts to the player's Strength, Vitality, Focus, Dexterity, and Intelligence as indicated by the food's stats.
Locations
[
]
Cooking can be undertaken at Alfredo's Bistro in Castele, Cocina Rica in Port Puerto and the Spice Rack at Al Maajik.
Leveling Up
[
]
Cooks use Frying Pans. Cooking while active in the Cook life will increase the amount of skill points earned. The maximum level for the Cooking is 15. If the downloadable content (Origin Island) is purchased, the player's maximum skill level will increase to 20.
Players who have purchased and completed the downloadable content may spend Lunares Coins to obtain a Cook's Pride brooch, which doubles the amount of experience gained.
To unlock Multi mode its required to create 5 dish. To unlock Auto mode its required to create more 25 dish. To unlock Auto+ mode its required to create more 50 dish. To unlock all cooking modes its required to create a total of 80 dish.
Added Ingredient Effects
[
]
Upon reaching the rank of "Expert", Cooks may add an additional ingredient.
Adding additional ingredients to meals has the effect of increasing the quality level of the dishes, rather than additional effects.
Grinding to Level 15
[
]
To reach the rank of "Legend", the player must reach Level 15 in all cooking dish varieties. Below is a list of easy dishes to make to earn experience. Most ingredients can be purchased:
Veg & Egg Cuisine

[

]
Without the Origin Island downloadable content:
With the Origin Island downloadable content:
Meat Cuisine

[

]
Without the Origin Island downloadable content:
With the Origin Island downloadable content:
Seafood Cuisine

[

]

With or without the Origin Island downloadable content: