Cook
料理人, (Japanese)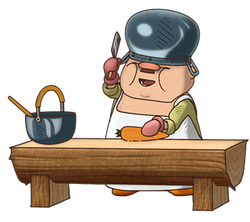 "Become a gourmet Cook, and entice even the king with the heavenly taste of your signature dishes! Spice up your Life with, um...condiments!"
Weaponry
Weapon
Dagger (Default)
The Cook is a life the player may choose to lead in the game Fantasy Life. It is one of 12 Lives available to choose to play as during the game and can be chosen at any time during the game by speaking to the Guild Master.
The Cook uses frying pans to cook delicious food. There are 84 cook recipes in the base game and 105 with the DLC.
The Cook crafting station consists of three parts: stirring, chopping and frying. This process can be made automatic with enough crafting experience.
The Cook's Life Shop is located in Port Puerto Palace Way inside of Cocina Rica.
| Rank | Stars | Life Bonus |
| --- | --- | --- |
| Novice | 0 | - |
| Fledgling | 100 | Focus +2, Dexterity +1 |
| Apprentice | 500 | Focus +4, Dexterity +2 |
| Adept | 2200 | Focus +6, Dexterity +3 |
| Expert | 6000 | Focus +8, Dexterity +4 |
| Master | 15000 | Focus +12, Dexterity +6 |
| Hero | 25000 | Focus +16, Dexterity +8 |
| Legend | 59800 | Focus +20, Dexterity +10 |
| God/Creator | 80000 | Focus +24, Dexterity +12 |
When the player reaches God/Creator rank with Cook, they gain an ability which can be activated when the player has a double charged Skill Gauge. It allows the player to instantly finish his or her current craft.
There are a number of other Cook class NPCs around Reveria, who unlock challenges, provide equipment and plot. Talk to these when they have a ? over their heads.
Pedro: Cocina Rica (Day), Port Puerto Palace Way - Pirate Ship Lower Deck (Night) - Port Puerto Marina

Unlocks the "Impressive Stew Menu" / "Special Stew Menu" quest (Master)
Unlocks the "Cuisine for Champions" quest to make a Roast of Legend (Hero)
Jill: The Spice Rack - Al Maajik Spelltown

Unlocks "Plenty of Pudding" (Adept)
Unlocks "Pufferfish Minus Poison" (Expert)
Joins party at Master
Mary Anne: Alejandro's Beach Hut - Tortuga Archipelago

Gives Swordfish (Expert)
Unlocks the "Simple but Refined" / "The King of Omelets" quest (Master)
Unlocks the "Rare Delicacy" / "Dreaming of Sashimi" quest (Hero)
Unlocks the "Fancy Sashimi Set" recipe (Hero)
Class Challenges reward the player with Stars which accumulate to rise the rank of the player within the Life Class.
Talk to Master Chef Alfredo to cash in Challenge rewards.
NAME
OBJECTIVE
STARS

NOVICE CHALLENGES

Now You're Cooking!
Prove your cooking skills to Master Cook Alfredo.
100

FLEDGLING CHALLENGES

A Basic Egg
Make a Boiled Egg.
50
Grill Some Meat!
Make 3 grilled meat dishes, such as Roast Mutton or Chicken Kebabs.
40
Rumoured to be Healthy

Fry Some Fish

Make 3 grilled fish dishes, such as Grilled Crucian or Grilled Sweetfish.
40
Skinny Veggie Soups

Serve Up Veggie Soup

Cook 3 vegetables soups, such as Carrot Soup.
40
Remove the Bones First

Fish Up Some Soup

Cook 3 seafood soups, such as Fish Soup.
60
Mutton Mayhem

Quality Mutton

Roast some Mutton to make 1 high-quality Roast Mutton dish.
100
Exquisite Eggs

Roll Out That Egg

Make 1 Egg Roll.
100
An Apple a Day

Apple Juicer

Make 1 cup of Apple Juice.
100
A Humble Feast

Fledgling Excellence

Make 5 dishes or drinks using the Fledgling recipes your master taught you.
80
Will Warm You Up

A Hearty Winter Stew

Make 1 Winter Stew from Bird Meat, Cows' Milk and Carrots.
30

APPRENTICE CHALLENGES

Burger Bonanza

Rustle Up Some Burgers

Make 3 burgers, such as a Well-Done Burger.

70

Flavoursome and Simple

Fish with Rustic Flair

Make 3 rustic seafood dishes such as Rustic Trout.
70
Eggsperptly Fried
Make 3 omelettes, such as a Fluffy Omelette.
70
Five-a-Day Soup

A Stew of Veggies

Cook 1 high-quality Vegetable Stew, made only using vegetables.
150
Fluff It Up

The Perfect Omelet

Make 1 high-quality Fluffy Omelette from Eggs, Cows' Milk and a Tomato.
150
Rich and Creamy

A Quiche of Quality

Make 1 high-quality Mushroom Quiche from Eggs, Cows' Milk and a Forest Mushroom.
150
Kebabsolutely!

*

A Most Delightful Chicken

Make one high-quality Tasty Kebab from Bird meat and Pine nuts.
150
Full of Omega-3

Cook Up a Fish Head

Make 1 dish using a fish head recipe, such as a Grilled Tuna Head.
250
The Fresher the Better

Sashimi Times Three

Make 3 sashimi dishes, such as Tuna Sashimi. Sashimi sets don't count.
150
Triple Quiche Special
Make 3 quiches, such as a Mushroom Quiche.
200
Healthy Veg

Boil Those Veggies

Cook 1 Boiled Veg dish from Carrots, Broccoli and Mountain Mushrooms.
200
Mouth-Watering Lamb

Nutty Mutton

Make 1 high-quality Juicy Mutton from Mutton andPine Nuts.
200
Apprentice Chef

Apprentice Excellence

Make 10 dishes using the Apprentice recipes your master taught you.
250
Signature Soup

A Superlative Soup

Make 1 high-quality Tomato Soup from Tomatoes, Spring Water and a Bell Pepper.
200
Perfect Side Dish

Perfect Those Veggies

Cook 1 high-quality Boiled Veg dish from Carrots, Broccoli and Mountain Mushrooms.
300

ADEPT CHALLENGES

Hearty Meal

Poultry Pairing on Rice

Make 1 Eggy Fried Rice from Royal Eggs, Bird Meat and Port Rice.
250
Bursting with Southern Flavors
Make 1 Southern Stew from Mutton, Cows' Milk and Tomatoes.
250
Sardine Special
Make 1 Sardine Pâté dish from Sardines and Palm Nuts.
250
Taste of Summer
Make 1 Summer Nectar from a Port Town Orange, Southern Papaya and a Wild Kiwi.
250
French Cuisine

Gratin Times Three

Make 3 gratins, such as Prawn Gratin or Port Town Gratin.
300
Sweet Tooth

Plenty of Pudding

Make 3 puddings, such as Honey Pudding (recipe taught by Jill).
300
Smoking-Hot Prawn
Make 1 Hot Prawn Bisque using a Lava Prawn from Mt Snowpeak's Lava Cave.
250
Barley Beverage

Juice of the Wood

Make 1 Barley Juice using Giant Tree Nuts from the Elderwood and Grassy Plains Barley.
250
Meat Lovers' Favourite

Dino-Dish Rampage

Make 3 on-the-bone dinosaur dishes, such as a T-Rex Leg.
600
Slippery Meal
Make 1 Grilled Eel using a Plains Eel, found in the West Grassy Plains.
900
Sushi Expert
Make 3 sushi dishes, such as Flying Fish Sushi.
450
Sunny-Side Up
Cook 3 sunny side up dishes, such as Giant Fried Egg.
450
Eat Hot with Some Butter

Cornucopia on the Cob

Make a combined total of 10 Corn on the Cob and/or Legendary Corn dishes.
450
Adept Chef

Adept Deliciousness

Make 15 dishes or drinks using the Adept recipes your master taught you.
600
This is How I Roll

Cabbage on a Roll

Make 1 Cabbage Rolls dish from Cabbage, Beef and Cows' Milk.
300

EXPERT CHALLENGES

Hot Soup for Any Season
Sizzling Soup
Make 1 high-quality Red Soup using Redgills found in Mt Snowpeak's Lava Cave.
350
Sweet Vegetable
Expert Desserts
Make 3 Sweet Potato Desserts or Magical Honey Desserts.
500
Magician's Breakfast
Enchanting Omelet
Make 1 high-quality Magical Omelette from Magic Eggs , a Pumpkin and Extra Creamy Milk. (Taught by Allan)
350
Sweetie Pie
Pies Aplenty
Make 5 Pumpkin Pies or Magical Pies.
500
You'll Be Spellbound
Abracadabra-a Milkshake!
Make 1 Magical Milkshake from a Rainbow Apple , Cave Strawberries and Extra Creamy Milk.
700
Autumn Favourite
Give Thanks for Perfect Pie
Make 1 high-quality Pumpkin Pie from Pumpkins , Plains Barley and Cows' Milk.
350
Desiccated Dinner
Sandfish Specialty
Make 1 Dried Sandfish using Sandfish , easily found in the Drysand Desert.
350
My Midsummer Dream
Sweet Dino Dish
Make 1 high-quality Dreamy Steak out of Dino Meat seasoned with Sugar Nuts.
350
Pufferfish Minus Poison
Exquisite Puffer Fish
Make 1 high-quality Pufferfish Sashimi out of Pufferfish , found around Tortuga Archipelago. (Taught by Jill in The Spice Rack)
500
Soup Most Lovely
A Lovely Way to Cook Bream
Make 1 high-quality Fish Soup of Love using Sea Breams of Love and Saltless Seawater.
400
The Best Sushi
Tuna for refined Taste
Make 1 high-quality Tuna Sushi from Tuna and Port Rice.
400
Expert Chef
Expert Creations
Make 20 dishes or drinks using the Expert recipes your master taught you.
1300
Woodcutter's Lunch
A Big, Hearty Breakfast
Make 1 Forest Quiche using a Bigbeak Egg.
100
Buccaneer's Secret Recipe
Crossing Swords
Make 1 Pirate Gumbo from vegetables and Swordfish.
1000
Monstrous Appetite
Use Monster Meat to whip up 1 Monstrous Sauté.
1200
A Meal Fit for a King
A Pampered Burger
Make 1 high-quality Royal Hamburger from some Beef.
400
Small Fish, Great Flavour
Savor the Smelt
Make 1 high-quality Smelt Soup using Smelt from the summit of Mt Snowpeak.
400
Spectacular Sashimi Set
Spectacular Sashimi
Make 1 Sashimi Set using a Squid , Prawn and Puerto Bream , found around Tortuga Archipelago.
400
Recommended by Daemon
Recommended by Damien
Cook Sweetcorn and Monster Meat with some Extra Creamy Milk to make Sultan's Stew.
600

MASTER CHALLENGES

Simple but Refined
The King of Omelets
Cook Royal Eggs with Truffle sauce to make 1 high-quality Royal Omelette.
600
Desert Delicacy
Make 1 high-quality Desert Fish Stew using various types of fish from the desert.
700
Snowy Special
Make 1 high-quality Frosty Fish Stew using various types of fish from the summit of Mt Snowpeak.
700
Lava Lunch
Make 1 high-quality Fiery Fish Stew using various types of fish from Mt Snowpeak's Lava Cave.
700
Impressive Stew Menu
Special Stew Menu
Make 3 fish stew dishes, such as Frosty Fish Stew or Fiery Fish Stew.
1400
Taste of Magic
A Most Magical Pie
Get some Magic Powder and make 1 high-quality Magical Pie.
500
Blizzard, Served Hot
Hot, Cold, and Eggy
Make 1 simple dish of Fried Blizzard Egg.
900
Roast for the Brave
Season Monster Meat with Giant Tree Nuts and roast it to make 1 Juicy Monster Meat. ("Beastly Beef" in the North American version.)
1000
Electrifying Egg
Make 1 Electro Egg Rice from a Thunder Egg.
1000
Chef de Cuisine
Master of the Kitchen
Make 25 dishes using the Master recipes your master taught you.
2000
Cloud Nine
Airy Delicacy
Make 1 Sky Sashimi Set using various fish from Levitania.
1000

HERO CHALLENGES

The Tale of Sweetcorn
The Tale of Sweet Corn
Season Sweetcorn with some Legendweed and make 1 high-quality Legendary Corn.
4000
High Steaks
Cook Dragon Meat with Supreme Truffle Sauce and make 1 high-quality Dragon Steak.
2500
Good as Gold
Show off your skills by making 1 high-quality Golden Fish Head out of the Golden Swordfish.
2500
What Sorcery Is This?
Make 1 high-quality Occult Roll from a Bigbeak Egg prepared with Spiritual Powder. ("Mystical Roll" in the North American version)
4000
Egg & Veg Master
Egg & Veggie Master
Get your Egg & Veg Cuisine skill to level 15.
2500
Cuisine for Champions
Use the finest meats to make 1 Roast of Legend. (Talk to Pedro in Cocina Rica)
1000
Rare Delicacy
Dreaming of Sashimi
Use the freshest legendary fish to make 1 Fancy Sashimi Set. (Talk to Mary Anne in Alejandro's Beach Hut)
1000
Cooking Masters
Get your Cooking skill to level 15.
2500
Meat Master
Get your Meat Cuisine skill to level 15.
5000
Seafood Master
Get your Seafood Cuisine skill to level 15.
5000

GOD-IN-TRAINING (DEMI-CREATOR) CHALLENGES

Epic Roast
Make 1 Fluffy Roast.
3000
A Feast Not Only for the Eyes
A Spectrum of Flavors
Make 1 Rainbow Paella.
3000
Resort Town Special
Make 1 Hot Spring Egg.
3000
Finest Frappé
Make 1 Goddess's Frappé.
3000
Bards Will Sing of It
Bards Will Sing Its Praises
Make 1 Glorious Dinner.
3000
10 Wishes Come True
Demi-Creator-Tastiness
Make 10 dishes or drinks using God-in-Training recipes.
5000
Business hours over, I leave the restaurant.

The night sky above dotted with twinkling stars.
Stars here, stars there, these stars I hate.
So cold and haughty, looking down at me.
"Your restaurant doesn't have a single star,"they seem to say, the wretched things.
"The food's good but you don't advertise."
Since when are you food critics, I ask?

Tomorrow at lunchtime, I'll take a break and remake the restaurant the way I dreamed.

Around and around, like a huge sunflower will my wonderful chimney go!
The passersby at dinnertime will be enticed by delicious aromas!
Go around and around, my sunflower chimney!
Spread the smell of food throughout the town!

My restaurant gets its first star.

How proudly it twinkles at the shop front!
It'll be two stars next year!
It's not because of you, night-sky stars...really.
Business hours over, I leave the restaurant.
I look up and you wink at me.
Wink, wink, wink, wink all you want!
One day I'll have a ☆☆☆☆☆ restaurant!

Community content is available under
CC-BY-SA
unless otherwise noted.