Cobalt Frog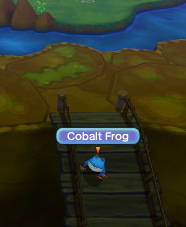 Enemy information
Location(s)
 ?
Possible drop(s)
Sleep Powder
Enemy level
Normal
Bounty
None
Bounty rewards
N/A
Approx. health
34 HP
Nature
 ?
Cobalt Frogs are small enemies with an appearance similar to that of a blue frog.
Trivia
Cobalt Frogs are weak to fire.
Community content is available under
CC-BY-SA
unless otherwise noted.