Chief's Bandana

A fine bandana worn by heroic Carpenters. Helps you become one with the lumber.
Rarity
Stats
Defence
Normal
28
Good
?
Great
?
Top
?
Divine
?
Magic Defence
15
Special Effects
Dexterity +4
------
Information
Buy price
N/A
Sell price
Normal
7000 Dosh
Good
? Dosh
Great
? Dosh
Top
? Dosh
Divine
? Dosh
Type
Armour (Head)
Obtaining
Speak to King Erik in the daytime once reaching the rank of Hero in the Carpenter life
Obtaining the Recipe
Reach the rank of God in the Tailor life
Check the mail to see a letter from Divinus
Read that letter to unlock the recipe
Notes
Also see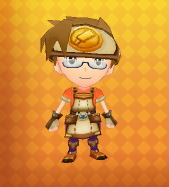 Community content is available under
CC-BY-SA
unless otherwise noted.